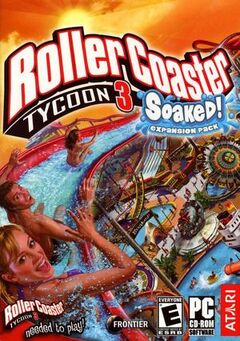 RollerCoaster Tycoon 3: Soaked! is an expansion to the PC simulation game RollerCoaster Tycoon 3. This expansion allows you to add water to your roller coasters.
Overview:
Edit
The official expansion pack RollerCoaster Tycoon 3: Soaked! lets you take all the mad amusement skills you've honed with standard coasters and rides and apply them to a raging water park. Along with new coasters, you'll get flume rides, huge waterslides, wave pools, and other high-thrill expressions of H2O. When your patrons aren't getting wet, they can take in a dolphin show or a new laser water show synched to your own music. The expansion also comes with Swimming Pool and Waterfall Designers, to make sure everything is flowing just the way you like it. U.K.-based Frontier Developments is creating Soaked!, with assistance from Chris Sawyer, creator of the original RollerCoaster Tycoon.
Ad blocker interference detected!
Wikia is a free-to-use site that makes money from advertising. We have a modified experience for viewers using ad blockers

Wikia is not accessible if you've made further modifications. Remove the custom ad blocker rule(s) and the page will load as expected.