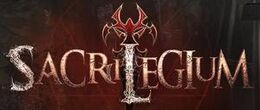 Sacrilegium is an upcoming survival horror game made by TopWare Interactive set to release on the Wii U, PC, Xbox 360, and PlayStation 3.
The story follows a 20 year old woman and California college student named Alex across the world, from the misty shores of San Francisco to the fearsome and foreboding corners of the Old Continent. There Alex learns that assumptions can be lethally deceptive and that the seemingly safe modern world is but half of a chamber divided by a dark curtain... that beyond that opaque veil lies the embodiment of nightmares spawned into flesh.
Alone, surrounded, and trapped in darkness Alex is forced to face the Moroi, modern vampires. Thrust in the middle of a deadly plot filled with intrigue and betrayal, Alex must call upon her instincts, skills, knowledge and devotion to survive and make it out alive with her mind and soul intact—as well as save her friends.
Ad blocker interference detected!
Wikia is a free-to-use site that makes money from advertising. We have a modified experience for viewers using ad blockers

Wikia is not accessible if you've made further modifications. Remove the custom ad blocker rule(s) and the page will load as expected.