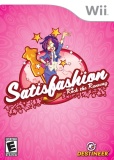 Satisfashion is a clothing management game for the Wii, Nintendo DS and PC. It is rated E and developed by TechFront.
Gameplay:
Edit
Step into the world of high fashion! As young designer Grace Styles, you'll lead the team at the Satisfashion Design House on a journey to the top of the fashion industry. Create trends with the latest fashions, hippest models and funkiest makeup. Show off your hot new looks on runways across the globe and set the fashion world on fire! With each innovative new trend you create you'll help elevate Satisfashion to the top of the industry!
Ad blocker interference detected!
Wikia is a free-to-use site that makes money from advertising. We have a modified experience for viewers using ad blockers

Wikia is not accessible if you've made further modifications. Remove the custom ad blocker rule(s) and the page will load as expected.