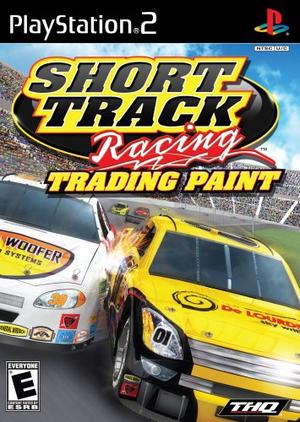 Short Track Racing: Trading Paint is a PlayStation 2 racing game made by THQ. It is rated E.
Overview:
Edit
Short Tracks are where future Nascar legends cut their teeth and make their way up the ranks — one collision at a time. Followed avidly by Nascar's millions of fans there's a short track in thousands of small towns across the country. Now with STRTP, players can live the true short track racing experience.
Race to the Finish Line! The game boasts 20 tracks and gives fans a chance to unlock different vehicle models and skins, as well as challenge modes to really test their driving mettle.
Test Your Skills! Drive 7 different exhilarating vehicle classes such as Stock Car, ¾ Midgets, Modified, Wingless Sprint, Late Model, Hobby Stock or a Pickup Truck.
Fine Tuning! Make sure your car is in tip top shape by fine tuning everything from the tire pressure to the steering ratio.
Are You a Pro? Race in three different game modes — Rookie, Veteran and Pro, each offering a different type of thrill.
Vroom..Vroom! Show them what you've got and trade paint on the I-10 Lucas Oil or the Peach State Speedway.
Ad blocker interference detected!
Wikia is a free-to-use site that makes money from advertising. We have a modified experience for viewers using ad blockers

Wikia is not accessible if you've made further modifications. Remove the custom ad blocker rule(s) and the page will load as expected.