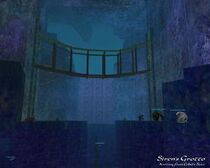 Siren's Grotto is an area in the EverQuest series. It only appears in the first game and is an underwater chamber.
Description:
Edit
Home to the Sirens of Velious, much of the Grotto is underwater. In addition to the Sirens, whose palatial quarters can be found deep within the caves, there are many types of aquatic life here. Seahorses, swordfish, mermaids, and elementals can be found throughout the area and are highly aggressive. Above water are the passive walruses and a clan of unwelcoming Bulthars.
Ad blocker interference detected!
Wikia is a free-to-use site that makes money from advertising. We have a modified experience for viewers using ad blockers

Wikia is not accessible if you've made further modifications. Remove the custom ad blocker rule(s) and the page will load as expected.