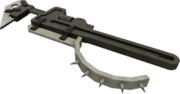 The Southern Hospitality is a weapon and tool in the game Team Fortress 2. It was added during the Engineer Update and is a community made weapon. It is a pipe wrench with certian deadly and lethal attributes added on the side.
The name "Southern Hospitality" is derived from the same phrase describing the warm and welcoming American South.
WatchMaker submitted the model to the Contribute page under the name "Beat All".
Ad blocker interference detected!
Wikia is a free-to-use site that makes money from advertising. We have a modified experience for viewers using ad blockers

Wikia is not accessible if you've made further modifications. Remove the custom ad blocker rule(s) and the page will load as expected.