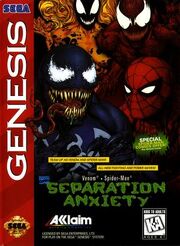 Spider-Man & Venom: Separation Anxiety is a brawler for the Genesis, PC, and SNES. It is rated E and made by Acclaim. It is based off the Spider-Man franchise.
The game's plot loosely follows Lethal Protector in the following ways:
Appearance of Spider-Man (in LP#1.)
Confronting the digger in San Francisco (as seen in LP#1.)
Discovering the underground city (as seen in LP#1.)
Appearance of The Jury (as seen in LP#2.)
Removal of five symbiote seeds to create five new symbiotes (as seen in LP#4.)
Spider-Man and Venom's escape from the Life Foundation (as seen in LP#4.)
Confronting the five symbiotes at the Life Foundation Headquarters (as seen in LP#5.)
Ad blocker interference detected!
Wikia is a free-to-use site that makes money from advertising. We have a modified experience for viewers using ad blockers

Wikia is not accessible if you've made further modifications. Remove the custom ad blocker rule(s) and the page will load as expected.