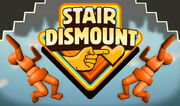 Stair Dismount is a physics based torture game on the iOS platforms. The game is made by Secret Exit.
Gameplay:
Edit
Gameplay involves pushing Mr. Dismount off the stairs as hard as you can and laugh at watching him cry in pain. You can also take a picture of yourself and place it on Mr. Dismount's blank face so it looks like you are getting a whipping.
Ad blocker interference detected!
Wikia is a free-to-use site that makes money from advertising. We have a modified experience for viewers using ad blockers

Wikia is not accessible if you've made further modifications. Remove the custom ad blocker rule(s) and the page will load as expected.