Steambot Chronicles is a musical action adventure game for the Playstation 2 made by Atlus. It is rated Teen.
Overview:
Edit
STEAMBOT CHRONICLES by Irem Software Engineering and Atlus Software for the PS2 offers players a variety of new and exciting options for their character in this new adventure. The main character changes as the players make their way through the game. The game focuses on Vanilla Bean and his assistant, Connie. When the game begins, they have run into some baddies who have evil plans for the world. Sounds like more of the same old, same old, except that here the game continually allows the player to pick between a variety of options that takes each game in a distinct direction. Large machines called trotmobiles, or trots for short, have taken the place of normal cars and trucks. These interesting inventions fight alongside Vanilla, picking up enemies and chunking them off like mere trash. However, players must keep their trots filled with gas, lest they find themselves nothing but a heap of rubble when they have to run on nothing but fumes. Another interesting thing about the trots is that players are allowed to constantly update them at any of the garages that are scattered throughout the game. Personalizing the their trot so that it works and maneuvers in a way that provides them with an optimum gaming experience. 
[Nadia Gifford provides the singing voice of Connie and wrote all of the songs sung by her in the game.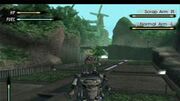 In your voice
Impossible
I Cry
Just shout it Out
See you Later
Music Revolution (Not sung by Connie)
Ad blocker interference detected!
Wikia is a free-to-use site that makes money from advertising. We have a modified experience for viewers using ad blockers

Wikia is not accessible if you've made further modifications. Remove the custom ad blocker rule(s) and the page will load as expected.