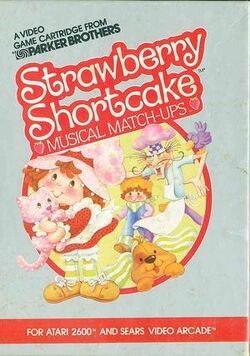 Strawberry Shortcake Musical Match-ups is an edutainment music-puzzle game published by Parker Brothers for the Atari 2600 and the Sears Video Arcade (an early and alternate version of the 2600), released in 1983. The game stars Strawberry Shortcake and her arch-rival, the evil Peculiar Purple Pieman of Porcupine Peak. This is one of the lesser rare games for the Atari 2600, and featured simplistic gameplay, graphics, and sound effects that were common of the era. It has the distinction of being the first Strawberry Shortcake game made; in fact, it was the only game made for the franchise for 20 years, until 2003's Strawberry Shortcake: Amazing Cookie Party.
Gameplay:
Edit
The goal of the game is to get a mixed up character with an array of random body parts that do not fit and put them back in the correct order.
Ad blocker interference detected!
Wikia is a free-to-use site that makes money from advertising. We have a modified experience for viewers using ad blockers

Wikia is not accessible if you've made further modifications. Remove the custom ad blocker rule(s) and the page will load as expected.