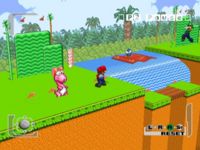 Sub-Con (also spelled Subcon) is an area/level in Super Smash Bros Melee. Interestingly it is called Sub-Con in all the other Mario games while in this one it is called Mushroom Kingdom II. It is unlocked by either getting the character Birdo or enemy Pidgit trophy, both being opponents that appeared in the American Super Mario Bros. 2 and the original Yume Kōjō: Doki Doki Panic that the game was edited from, where Sub-Con was the setting of.
Unlike the first Mushroom Kingdom stage, Subcon has 8-bit graphics converted into 3D and 16-bit graphics that remain 2D. 
Ad blocker interference detected!
Wikia is a free-to-use site that makes money from advertising. We have a modified experience for viewers using ad blockers

Wikia is not accessible if you've made further modifications. Remove the custom ad blocker rule(s) and the page will load as expected.