Swingerz Golf is a sports golf game for the GameCube made by EIDOS Interactive. It is rated E and exclusive to the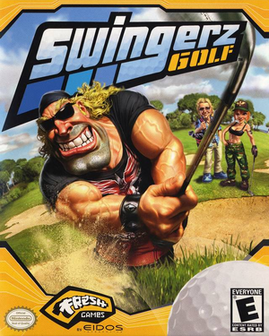 GameCube.
Gameplay:
Edit
Xbox has Outlaw Golf, PlayStation 2 has Hot Shots Golf and GameCube now has a golf game to call its own, Swingerz Golf. Developed by Telenet and published by Eidos Interactive, Swingerz Golf takes the sport of golf to a whole new level with off-the-wall characters and intense clubs of fire. Players can take to one of 6 courses as 14 different over-the-top golfers, all while getting advice from caddies and experiencing realistic golf physics. The game features multiplayer modes supporting up to four-players and a control scheme that makes Swingerz Golf a pick up and play game.
Reception:

Edit
Swingerz Golf recieved mostly positive reception.
Ad blocker interference detected!
Wikia is a free-to-use site that makes money from advertising. We have a modified experience for viewers using ad blockers

Wikia is not accessible if you've made further modifications. Remove the custom ad blocker rule(s) and the page will load as expected.