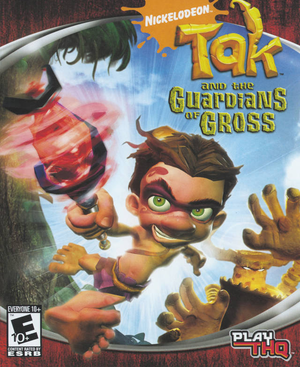 Tak and The Guardians Of Gross is a game based on the Nickelodeon TV show Tak. It is rated E10+ and is for the PlayStation 2 and Wii. It is developed by THQ and is an action adventure game.
While cleaning up a shrine, Tak removes a giant crystal and inadvertently releases the four Big G's, four of the nastiest, most disgusting Titans to terrorize Tak's village: Trashthulu the landfill giant, Slopviathan the slime giant, Gorgonzilla the molten cheese giant, and Stinkolossus the stink giant. Now Tak must find the Juju masters of the Big G's and acquire the magic needed to stop the giants before they make a mess that will take Tak an eternity to clean up!
Gameplay:
Edit
Players will be tasked with helping Tak to reconstruct the shattered crystal in order to trap the Grosstrosities that threaten to destroy the Pupununu Village. In addition to the new Grosstrosities, Jeera will make her video game debut as a playable character in special areas of the game.
Ad blocker interference detected!
Wikia is a free-to-use site that makes money from advertising. We have a modified experience for viewers using ad blockers

Wikia is not accessible if you've made further modifications. Remove the custom ad blocker rule(s) and the page will load as expected.