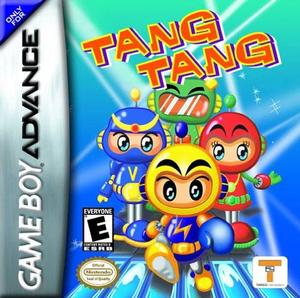 Tang Tang is a puzzle platform game for the Game Boy Advance that is made by Take Two. It is rated E.
Gameplay:
Edit
 As one of four space soldiers, your duty is to kill enemies and actually make platforms to get to certain places, making the game a unique experience in the fact that you can actually create different versions of the level.
In the year 3025, the peaceful planets of The Associated Nexus of Galaxies (TANG) is threatened by hordes of invaders bent on pillaging the natural resource of Energy Crystals. Their attack is quick and precise; the planets are almost completely overrun by these savage aliens. The TANG, now backed into a corner, initiate their last line of defense. They call upon four super dimensional cyborg heroes. Called Tangibles for their ability to conjure up solid blocks out of thin air, these brave soldiers will use their cunning, quick reflexes and Power Bolts to retrieve the Energy Crystals and push back the advancing armada.
Ad blocker interference detected!
Wikia is a free-to-use site that makes money from advertising. We have a modified experience for viewers using ad blockers

Wikia is not accessible if you've made further modifications. Remove the custom ad blocker rule(s) and the page will load as expected.