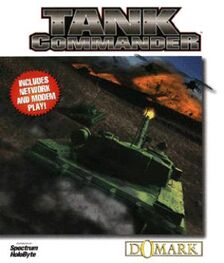 Tank Commander is an action strategy simulation game for the PC made by Domark Software.
Features:
Edit
- Extraordinarily addictive game play;
- 120% pure ACTION;
- Original soundtrack and powerful sound effects;
- Gorgeous effects, huge Explosions!
Gameplay:
Edit
You are the last member of your army's elite tank commanders, with no choice but to defend your fortress against enemy tanks bent on your base's destruction. How long will you be able to survive?
Ad blocker interference detected!
Wikia is a free-to-use site that makes money from advertising. We have a modified experience for viewers using ad blockers

Wikia is not accessible if you've made further modifications. Remove the custom ad blocker rule(s) and the page will load as expected.