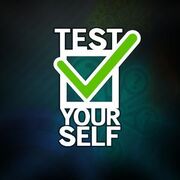 Test Yourself: Psychology is a PlayStation 3 game made by Create Studios Inc. It is an educational trivia game, is downloadable, and rated E.
Gameplay:
Edit
Ever wondered who you really are and what you are better designed for? Test Yourself is a series of interactive psychological tests that combine science and fun and give you real scientific analysis of each aspect of your personality and mentality! This first pack of tests, Test Yourself: Psychology, analyzes two areas of your psychological structure — Nervous System and Intellect. Start reading this manual to you, you are worth the story!
Ad blocker interference detected!
Wikia is a free-to-use site that makes money from advertising. We have a modified experience for viewers using ad blockers

Wikia is not accessible if you've made further modifications. Remove the custom ad blocker rule(s) and the page will load as expected.