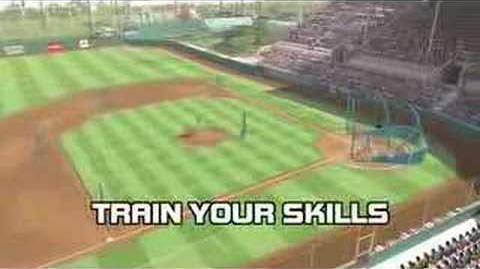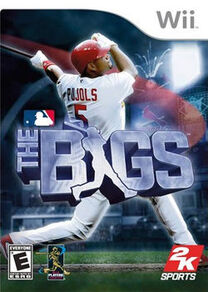 The BIGS is a baseball game made by 2K and Capcom. It is rated E and for the Xbox 360,Playstation 3, Playstation 2, Playstation Portable, and Wii. The game is infamous for bieng non-realistic with big home runs,fast pitches etc. It was released on June 26 2007.
Gameplay Overview:
Edit
The BIGS is an action style baseball game that may seem similar to Midway's Slugfest series, and indeed it is. There aren't many modes in The BIGS, there is a career mode where you take your rookie from the start of the season to the end of the season. There is a very addicting Baseball Pinball mode where you choose a power hitter from the MLB and you take him to the middle of Times Sqaure and you just hit stuff with the ball that is pitched to you. The smaller the object you hit, the bigger the points you get. The difficulty also changes as you keep rising in your score where they add different pitches like curveballs, changeups, etc. There is also an online component that is very basic. You and a friend or random oppenent just meet up and get a game going. The BIGS is an action style baseball game where there are insane pitches and all the guys in the game are juiced with steriods. A nice break from all the realistic baseball games.  Check it out for almost any system available. 
Gameplay:

Edit
Game Modes:

Edit
Rookie Challenge: The user designs a custom player, assigns him to an MLB team and guides him through spring training and the MLB season. Attribute points to improve the player are rewarded for offensive prowess and the completion of various mini-games that test the player's skill in a variety of areas. The player can also steal 10 players from opposing teams after defeating them in certain games.
Home Run Pinball: This mode that puts the player in the middle of Times Square, New York City with the objective of hitting baseballs into neon signs and windows in order score the highest points possible. The player can then upload their score to the online leader boards and see where they rank.
Home Run Derby: A first-to-10 showdown between two hitters.
Soundtrack
Edit
Stone Temple Pilots - Plush
Screaming Trees - Nearly Lost You
Jane's Addiction - Ocean Size
Killing Joke - Millennium
Rollins Band - Tearing
White Zombie - More Human than Human
Midnight Oil - Dreamworld
Fu Manchu - Hung out to Dry
Motorhead - Ace of Spades
The Stooges - Down On The Street
Primus - Jerry Was A Racecar Driver
Blue October - Somebody
Satellite Party - Insanity Rains
Highbench - Satisfied
Ad blocker interference detected!
Wikia is a free-to-use site that makes money from advertising. We have a modified experience for viewers using ad blockers

Wikia is not accessible if you've made further modifications. Remove the custom ad blocker rule(s) and the page will load as expected.