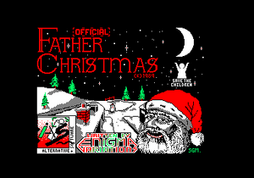 The Official Father Christmas is an action platformer for the Amstrad CPC, Commodore 64, and ZX Spectrum. It is made by Enigma Variations Ltd.
The aim of the game, believe it or not, is to control Father Christmas during his present delivery on Christmas Eve and deliver all the children's' presents. The only problem is, there are numerous amounts of obstacles stopping your presents from hitting their targets. It's up to you to save Christmas - again!
Ad blocker interference detected!
Wikia is a free-to-use site that makes money from advertising. We have a modified experience for viewers using ad blockers

Wikia is not accessible if you've made further modifications. Remove the custom ad blocker rule(s) and the page will load as expected.