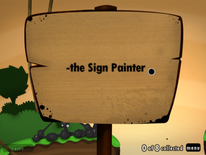 The Sign Painter is a character in the game World Of Goo. He is never shown but mentioned.
Description:
Edit
The Sign Painter, also known by the username SignPaintr4evr, the alias the Telescope Operator, and the alternate stylization of signpainter, is an omnipresent, yet unseen character who loves to leave signs behind.
Ad blocker interference detected!
Wikia is a free-to-use site that makes money from advertising. We have a modified experience for viewers using ad blockers

Wikia is not accessible if you've made further modifications. Remove the custom ad blocker rule(s) and the page will load as expected.