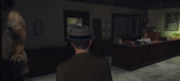 The Silver Screen Prop Store is an area in the game L.A Noire. It is owned by Marlon Hopgood who is a main suspect in the mission "The Fallen Idol". It is located at 248 S. Figueroa Street in Downtown Los Angeles.
This location is a very detailed location, with lots of faux movie posters and props to look at in addition to the clues.
Ad blocker interference detected!
Wikia is a free-to-use site that makes money from advertising. We have a modified experience for viewers using ad blockers

Wikia is not accessible if you've made further modifications. Remove the custom ad blocker rule(s) and the page will load as expected.