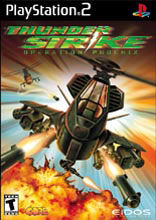 Thunderstrike: Operation Phoenix is a flight combat game made by Eidos Interactive for the PlayStation 2 and Xbox. It is rated Teen.
A deadly wave of extremist terrorism has struck at all the principal nations, paralyzing the world with fear. The globe's major powers immediately issue a state of emergency, merging their weapons resources and technologies into a clandestine project entitled Operation Phoenix. In control of the most advanced Gun-Ship technology known to man, you're the best shot the free world has for peace. Your objective is clear: Resolve All Situations.
Gameplay:
Edit
The gameplay is arcade-style action, but you'll also find plenty of simulation elements that will give your trigger finger a rest. You're in control of every aspect of your helicopter, from the flight plan to the weapons to the navigational system, so you'd better be ready for a fight if you're going to survive in Thunderstrike: Operation Phoenix.
Ad blocker interference detected!
Wikia is a free-to-use site that makes money from advertising. We have a modified experience for viewers using ad blockers

Wikia is not accessible if you've made further modifications. Remove the custom ad blocker rule(s) and the page will load as expected.