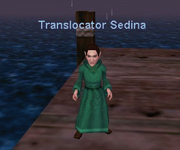 Translocator Sedina is a very minor character in the EverQuest series of games. He is an elf and lives on The Docks. He only appears in the first EverQuest game.
Will magically send adventurers to Erud's Crossing from Qeynos when boats are out of service.
Ad blocker interference detected!
Wikia is a free-to-use site that makes money from advertising. We have a modified experience for viewers using ad blockers

Wikia is not accessible if you've made further modifications. Remove the custom ad blocker rule(s) and the page will load as expected.