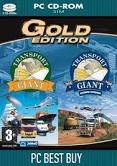 Transport Giant: Gold Edition is a simulation strategy game for the PC made by JoWood. It is the re-released version of Transport Giant and contains new content.
Gameplay:
Edit
Build your own transportation empire consisting of several types of land-, air- and sea-vehicles such as horse carriages, trains - from steam to maglev, trucks and buses, blimps, airplanes and helicopters as well as ships. Start in 1850 and lead your company through 200 years of technical progress, starting with horses and the early wood-powered steam-engines and ending up with high-tech machinery like supersonic airplanes, maglev (superconductor) and monorail-trains etc. Choosing from a broad selection of maps, or run through one of two campaigns, one set in Europe and the other in the US.
Ad blocker interference detected!
Wikia is a free-to-use site that makes money from advertising. We have a modified experience for viewers using ad blockers

Wikia is not accessible if you've made further modifications. Remove the custom ad blocker rule(s) and the page will load as expected.