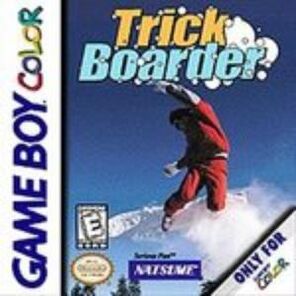 Trick Boarder is a sports snowboarding game for the Game Boy Color made by Natsume. It is rated E.
Send yourself speeding down a hill to claim first place in TRICK BOARDER. Choose from eight snowboarders, each with different attributes. Learn how to navigate all nine tracks and set speed records in the Time Trial mode. When you want to compete, try to claim the championship in the Grand Prix mode, where you earn points by finishing well on all nine tracks. If you have friends that are into snowboarding, you can challenge them to a race via the link cable. No matter what mode you play, you must keep an eye out for obstacles, or you will lose precious speed and time. Luckily, you can pick up icons that will give you turbo boosts, and you can perform tricks or go through slalom gates that will award additional speed boosts as well. Work your way through the ranks to become a snowboarding champion in TRICK BOARDER.
Ad blocker interference detected!
Wikia is a free-to-use site that makes money from advertising. We have a modified experience for viewers using ad blockers

Wikia is not accessible if you've made further modifications. Remove the custom ad blocker rule(s) and the page will load as expected.