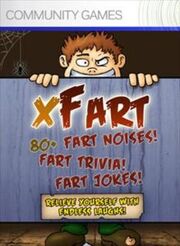 XFart is a fart simulation game (ya there is a such a thing) for the Xbox 360.
Description:
Edit
Stress, Anxiety, or Boredom taken oven? Well relieve yourself with the most useful game on earth, xFart! With world wide appeal xFart will provide relief to all with endless laughs. Let it rip with xFart's 80+ different farts, 50+ Fart Definitions, a 100+ Fart Chart, and 50+ Fart Jokes that will split your seams, 35 Fart Trivia questions, and a custom soundtrack with all your favorite fart hits!
Ad blocker interference detected!
Wikia is a free-to-use site that makes money from advertising. We have a modified experience for viewers using ad blockers

Wikia is not accessible if you've made further modifications. Remove the custom ad blocker rule(s) and the page will load as expected.