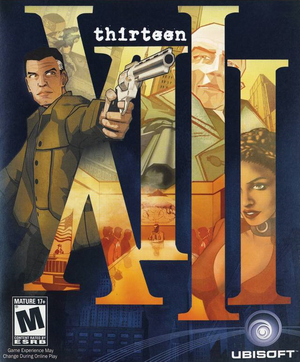 XIII is a first person shooter video game based off the comic of the same name. It is rated M, made by Ubisoft and for the PC, Gamecube, Xbox and PlayStation 2.
Synospis:
Edit
Ubi Soft introduces cel-shading to the First-Person Shooter genre with the unique, politically-charged XIII. Discover the secrets of the conspiracy-rich plot and find out the mysterious connection between your shrouded past, and the President's assassination. Become a master of both stealth infiltration and weapons-based combat in order to survive a relentless slew of enemies. Strategically switch between silent weapons such as the deadly crossbow, or distance and power weapons like the sniper rifle and machine gun. Immerse yourself in an epic conspiracy story with a visual style straight from the pages of a comic book.
Ad blocker interference detected!
Wikia is a free-to-use site that makes money from advertising. We have a modified experience for viewers using ad blockers

Wikia is not accessible if you've made further modifications. Remove the custom ad blocker rule(s) and the page will load as expected.