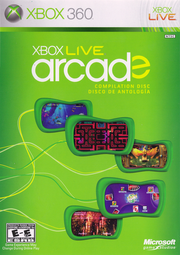 Xbox Live Arcade Compilation Disc 
is a game compilation disc for the Xbox 360 console. It is rated E10+ and features the games Boom Boom Rocket,Feeding Frenzy,Luxor 2,Uno, and Pac-Man Championship Edition. It is developed by Microsoft.
Gameplay:
Edit
The compilation was packaged with the Xbox 360 Arcade. The disc works by inserting it into the system just like any other game. However, rather than directly launching any of the titles, it adds five items to the Xbox Live Arcade menu with a small disc icon next to each name.
Ad blocker interference detected!
Wikia is a free-to-use site that makes money from advertising. We have a modified experience for viewers using ad blockers

Wikia is not accessible if you've made further modifications. Remove the custom ad blocker rule(s) and the page will load as expected.